INJECTION MOLDS
Toth Mold/Die Inc. Since 1982
Inserts for Overmolding
Toth Mold/Die Inc. provides inserts for overmolding. Some inserts are used from in-stock supply. Most of these inserts are threaded and of standard sizes. More complicated inserts for overmolding that are of a specialty design must be custom made. Toth Mold/Die Inc. has the resources to either make in-house or source out to a number of qualified and trusted shops that have performed work for us for many years. Some of the inserts for overmolding we use also need to be nickel-plated or chrome plated. Toth Mold/Die Inc. also has the resources to have this process supplied. On occasion, our customers will supply the inserts needed to mold the finished part.
Inserts for overmolding are usually made from brass or steel.  With the use of these materials, the steel used in the injection mold must be a tool steel that is heat treated in order to prevent wear in the injection mold.  Most of the inserts used are threaded inserts and are used so the threads do not wear out on the plastic part.  Some other types of inserts are used as connectors for electrical components.
Other types of inserts used in injection molding are injection molded and then put in another injection mold and have plastic overmolded onto it. Usually the part that is overmolded is a rigid plastic that has a softer plastic molded over it.  The use of this type of overmolding is commonly seen in diaphragm parts.  Overmolding other injection molded parts takes a lot of care in the initial design as far as the material grades, bonding of the two parts and an area for shut-off on the part. The two materials that are going to be used must have at least a 50°F temperature difference to make sure the plastic part that is being overmolded does not melt. There are some grades of materials that bond to each other but most of them do not. To make sure the material stays on the part, there needs to be thru holes that encapsulate the plastic through the holes.  This is called a mechanical bond. When the injection mold is being built by a separate injection mold making shop other than the injection molding shop, the two must work together on the mold design as far as the loading of the insert and the amount of press needed to achieve optimum shut-off to be assured of a flash free part.
Toth Mold/Die Inc. has 40 years of expertise in inserts and molded parts for overmolding in the injection molding industry.  We are here to help guide you with your next project.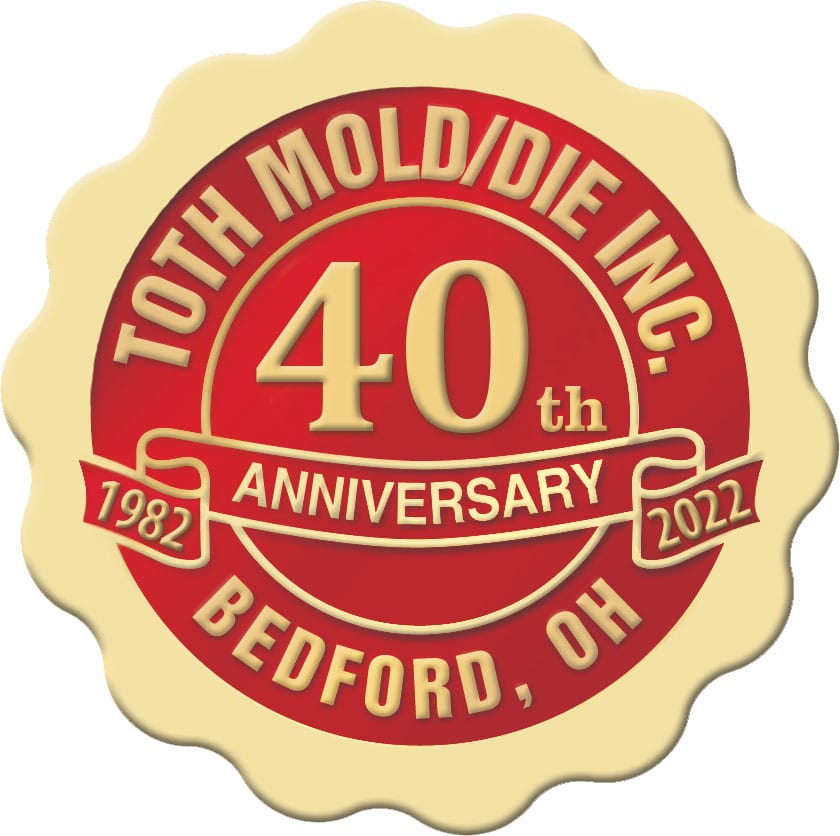 Parts Produced By Toth Mold/Die, Inc.
Contact Toth Mold/Die Inc. Today
Please click on the button below, we're looking forward to hearing from you!