INJECTION MOLDS
Toth Mold/Die Inc. Since 1982
Cam Action Molds
Cam action molds are the most common type of injection mold for casting undercuts and holes in an injection molded part. This type of mold reduces the risk of damage to the injection mold because all of the moving parts are mechanical so there is no hooking up hydraulic cylinders or electric motors.
How does a Cam Action mold work?
The slide part of the cam action moves freely back and forth and is held in place with gibs. The slide also houses a core pin or inserts that have the form that is casting the undercut.  Water lines are also put in the core pin or inserts. The movement of the slide is done by a horn pin that is mounted most commonly on the stationery side of the mold and is on an angle of 20° to 30°. The horn pin enters the hole that is bored in the slide.  Next, as the injection mold closes the slide moves in. Once the slide is moved into position, an angle block that is mounted with the horn pin locks the slide in place.  The locking angle is 2° to 5° greater than the horn pin angle. Once the injection and cooling part of the cycle is complete, the mold starts to open.  The slide now starts to be pulled out of the closed position by the horn pin.
On some injection molding parts there are certain situations that a core must enter into another core at an angle. In this situation, one of the cores must stay in the closed position so the other slide can move out of the stationary core. These slides must be timed with extreme precision. The delayed action is accomplished by a horn pin that is on an angle like a standard horn pin, but with a section that is straight causing the delay needed for the slide movement.  Toth Mold/Die Inc. specializes in these types of injection molds. Another way of controlling core movement is by the use of hydraulic cylinders. These can be timed to move in different sequences through the injection molding machine. These hydraulic cylinders must be set in the proper sequence or damage can occur to the injection mold. Toth Mold/Die Inc. only uses hydraulic or air cylinders as a last resort.
Toth Mold/Die Inc. has designed and built cam action injection molds that require core movements for 40 years and specializes in these types of injection molds.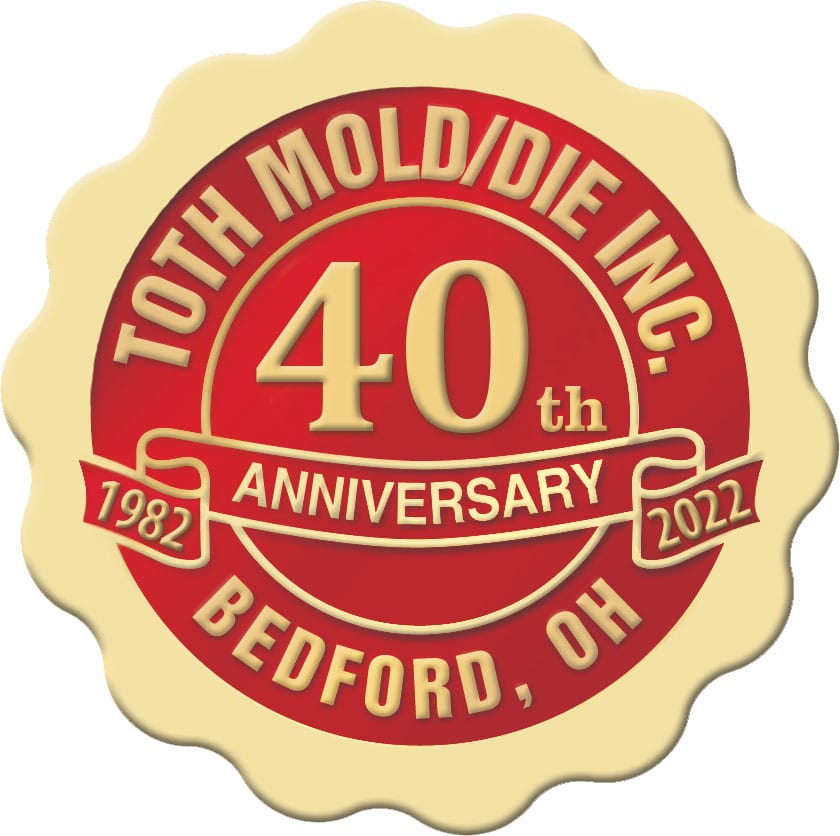 Parts Produced By Toth Mold/Die, Inc.
Contact Toth Mold/Die Inc. Today
Please click on the button below, we're looking forward to hearing from you!